March Meeting
March 8, 2016 @ 18:30

-

21:00
March Addenda-
CORSA business updates
LPR/MPR launch site update
Open Rocket overview with Ed!  Flying rockets is fun, building the kits is more fun, modifying the kit gets even better but the ultimate prize is to fly your own original design.  "OpenRocket is a free, fully featured model rocket simulator that allows you to design and simulate your rockets before actually building and flying them." You can down load Open Rocket for free from their web site:  http://openrocket.sourceforge.net/
Group talk – Our times together shouldn't be just lecture but we need YOU to prevent that.  Do you have a rocket you've recently finished?-Bring it and share it.  Do you have a question or have run into difficulty while building?- Bring it to the meeting and we'll put our heads together for possible answers. Want to show off your new tool or favorite thing-a-ma-jig?- Bring it, we all want one but don't know we need one (yet).
You must park in the visitor parking at the Campus Center West Parking Lot or Cowan Hall Parking Lot only, see map below. You may want to arrive early or contact us before your first visit so we can provide you a visitor parking pass.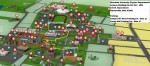 Meeting location map